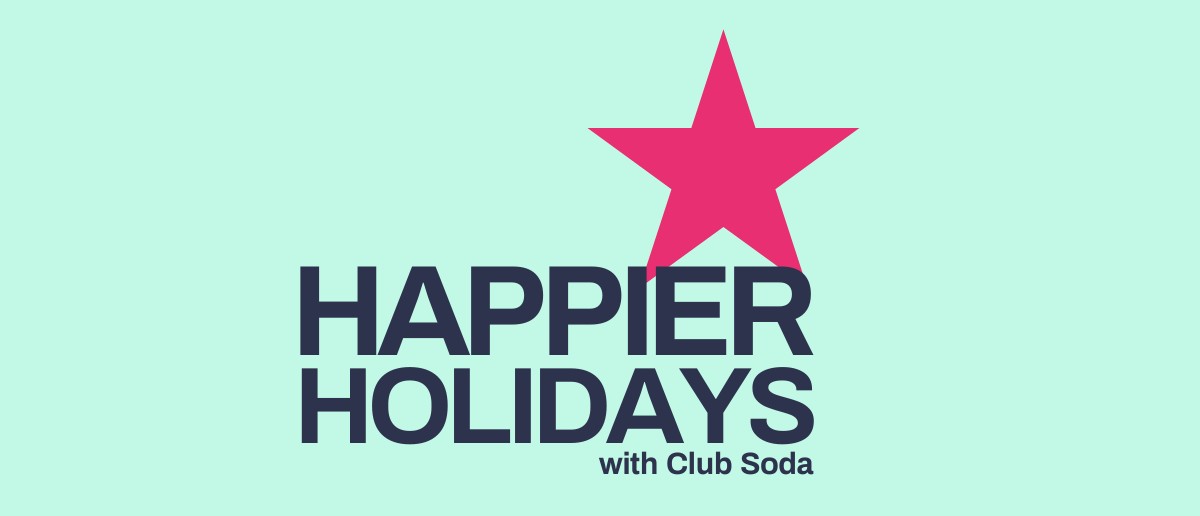 Survive, thrive and revive this holiday season.
Happier Holidays with Club Soda is everything you need to change your drinking this holiday season, so that you not only survive, you thrive and revive. Our course takes you step-by-step through planning your holidays with interactive learning, practical tools and personal support.
Happier Holidays guides you through all your festive celebrations, right up to New Year's Eve. You will have access to all of the materials as soon as your purchase is complete, so you can work at your own pace. The course is entirely self-paced, allowing you to go through it at your own speed. And you come back to the materials time and again after the course officially ends.
This holiday season, celebrate Happier Holidays with Club Soda
Are you wondering how to get through the holiday season healthy and happy? If you want a Thanksgiving and Christmas you'll remember, Club Soda can help.
Happier Holidays with Club Soda is everything you need to make this festive season a success! Our course takes you step-by-step through the holidays, with interactive learning, practical tools and personal support.
Join our exclusive Happier Holidays course today, and you will:
Identify your potential pitfalls and plan to avoid or navigate them, getting you ready for the weeks ahead
Map out the holiday season, plan moments to look forward to, and rethink your seasonal traditions
Plan your personal rewards, so you can feel that you are still getting the most from the holiday period
Navigate the social and family pressures this season brings
See in the new year with a clear head and get 2023 off to a positive start.
If you want to make this a festive season you'll remember, sign up today for Happier Holidays with Club Soda.
What's on the menu for Happier Holidays with Club Soda?
Happier Holidays with Club Soda is a seasonal support and coaching programme aimed at helping you survive, thrive and revive over the holiday season, equipping you with tools, skills and positive experiences to take forward into the New Year and the future beyond.
The course is led by members of the Club Soda team, who between them have decades of experience as either mindful drinkers or living alcohol-free. Join us for Happier Holidays with Club Soda and you'll get:
Interactive online lessons to take you step-by-step through the holidays
Email prompts and reminders to keep you on track
Practical tips to build your skills and confidence to drink mindfully and live well
An online tool to help you plan for every occasion so you're prepared for the highs and lows of the festive season
Connection with other members of the Club Soda community through our private Club Soda group on Telegram, a secure private messaging mobile app, so you can keep in touch wherever you are.
Make your holidays even happier with 1-1 coaching
Sometimes you need just a little more focus and support to supercharge the holiday season. So alongside your Happier Holidays course, you can now access 1-1 coaching support with a member of the Club Soda team.
Sign up for our Happier Holidays Plus package, and you will also get four in-depth coaching sessions. We'll link you with a member of the Club Soda team, so you can schedule flexibly at mutually agreeable times.
Your first session is a chance to get to know your coach, and set out your plans for your Happier Holidays. Then two deep-dive sessions give you space to unlock your own solutions to tricky festive problems. And finally, you'll get some time with your coach to consolidate your learning from the programme and set dynamic goals for a happier, healthier New Year.
Coaching lets you go deeper into YOU – your holiday planning, your triggers, and your plans to get the most out of the holiday season. Choose the upgrade when you register for the course, and you'll get complete access to the course plus four individual coaching sessions for just £300.
What other people have said about our previous holiday season courses
"The most useful bits were the regular emails with links to blogs."
"Having a regular stream of e-mails reminded me about what I wanted to achieve."
"I found listening to other peoples' experiences and success extremely motivating and inspiring."
"I love the WOOPs. Using and reusing the same tool made it easier and more productive."
"I loved the WOOP about envisioning the Christmas I wanted, getting the emails, encouraging me to start new traditions."
The small(ish) print
Is there any reason I shouldn't do this course?
You must not stop drinking suddenly if you think you are physically dependent on alcohol. If you think you might be dependent on alcohol, you should speak to your doctor.
Happier Holidays with Club Soda doesn't require you to change your drinking suddenly, so you could follow the course alongside cutting down your drinking gradually. Happier Holidays is not a substitute for medical advice. Talk to your doctor if you are concerned that you might be physically dependent on alcohol. And if you experience alcohol withdrawal symptoms at any point during the course, you must seek medical help.
Can I do this course if I haven't already changed my drinking?
Happier Holidays with Club Soda is for everyone who wants to get through the holiday season without letting alcohol run the show. It is also ideal for anyone who's already moderating or alcohol-free, and who wants to maintain those habits through the holiday period.
If you're just at the beginning of your journey, you could do Happier Holidays with Club Soda alongside one of our other courses, like How to Drink Mindfully (if you want to cut down) or How to Stop Drinking (if you want to go alcohol-free). That way, you'll get daily support and motivation throughout the holiday period, boosting your chances of success.
When will the course start?
You can join the course at any time. Once your payment has been processed, you will be automatically enrolled in the course. We'll email you a receipt and a welcome message, so you'll know you're signed up. And if you're new to Club Soda, you'll also get an email inviting you to create a password for the website..
Once you're enrolled, you'll find the course materials on this page. If you don't see them, our website might have logged you out. Just log in to start your course.
If you can't log in or you don't receive any emails from us, please check your spam folder first. And if you still can't find the email, please get in touch and we'll look into it.
How does the course work?
All the course materials for Happier Holidays with Club Soda are hosted on a secure and private part of our website
The course is entirely self-paced. We have designed it this way so you can dip in and out according to your needs, plus there's an 'emergency toolbox' for on-the-fly help when things don't go quite according to plan.
If you have chosen the additional coaching package, Ali Press from the Club Soda team will get in touch with you to talk through the practicalities.
I purchased the additional coaching package. How does that work?
After an initial chat with Ali, you will be assigned to a coach. Your coach will then make contact with you to arrange your first session. They will receive your WOOP plans (the behaviour change tool we are using in Happier Holidays) as and when you complete them, and these would usually form the basis of your discussions with your coach. But all kinds of life aspects might come up in the conversation, and your coach will work with you to get the best out of your 1-1 time.
Is there a time limit on finishing the course?
No, the course is yours for as long as you need it, and your access to the course materials doesn't expire.
What about emails?
You'll receive a daily motivational nudge by email each day. To get these emails, you need to be subscribed to our regular email newsletter – we use the same system to send them. You can subscribe when you buy the course or sign up to the email newsletter here. We'll send you these emails for as long as you want them, and you can update your preferences or unsubscribe at any time.
Occasionally, depending on the time of day you sign up, there can be small delay in starting your daily nudges. If you haven't received a nudge within 72 hours, please contact a member of the team.
And finally…
While we make every effort to run our programmes as advertised, we reserve the right to change course content, dates, trainers and moderators if necessary. We also reserve the right to suspend any member who does not keep to our Club rules and terms and conditions.