Already enrolled? Log in here.
Get this course for free. If you live in the UK and work in the drinks industry, your Club Soda course can be fully funded by the Drinks Trust. Find out more.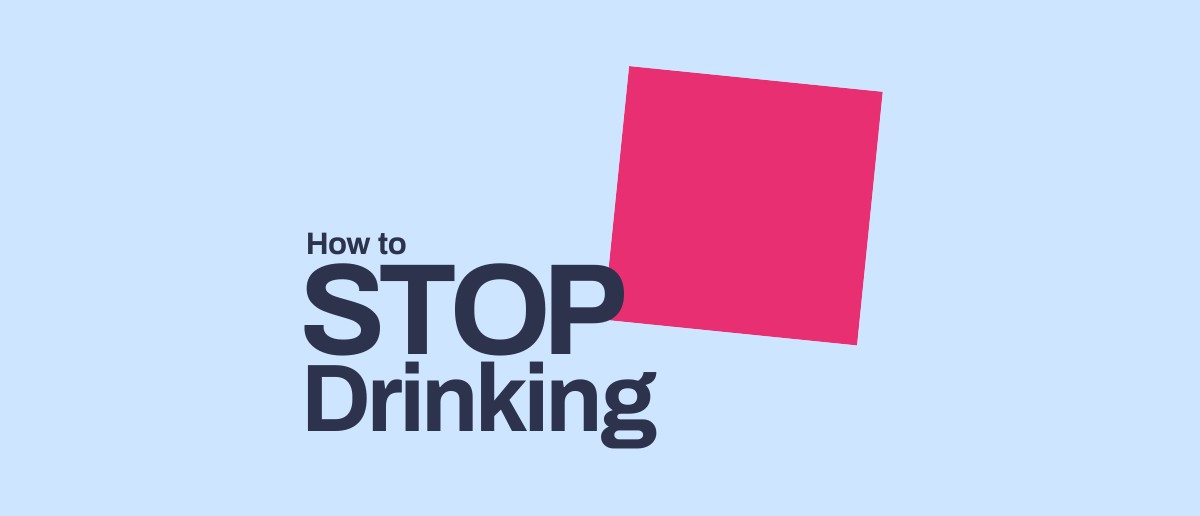 Whether you want to take a break or quit drinking for good, How to Stop Drinking will help you discover life beyond alcohol.
How to Stop Drinking is the best of everything Club Soda knows about creating and sustaining an alcohol-free life. This course is filled with all the information, tools and support you need to help you change your drinking for good.
Want to quit alcohol? Discover How to Stop Drinking
How to Stop Drinking does what it says on the tin. Step-by-step, you will discover how to stop drinking and build an alcohol-free life.
Based on behaviour change science and inspired by the philosophy and practices of mindfulness, How to Stop Drinking is the best of everything Club Soda knows about how to create and sustain long-term change. It's an in-depth and intensive course with regular check-ins, filled with all the information, tools and support you need to live the life you imagine.
How to Stop Drinking takes a step-by-step approach that unfolds at your pace, supporting you to stop drinking when you are ready:
Part 1 prepares you to stop drinking without relying on willpower, introducing essential attitudes for change, tips to deal with cravings and exploring the role of alcohol-free drinks
Part 2 introduces the core principles of mindfulness and how they can support you to be alcohol-free, by helping you identify and tackle your triggers for unwanted drinking
Part 3 helps you deal with uncomfortable thoughts and feelings that can arise when you stop drinking, and gives you space to reflect on your motivation for long-term change
Part 4 considers how you can begin to live with intention, creating the life you imagine and discovering how to make your good decisions easier
And the final few days prepare you for life beyond How to Stop Drinking, so you're ready to put everything you've learned into practice.
Plus, there's bonus material, including exclusive downloadable booklets, videos exploring key issues, and real-life inspirational stories of people who've changed their drinking for good. There are experiments preparing you to live alcohol-free in the real world. And we'll introduce you to other members of the Club Soda community, so you can get the inspiration and support you need. We're in this together.
What other people say about Club Soda's courses
What a brilliant course! What a complex month. I didn't realise how far I had come until I looked back. Thanks to the course, I have a plan and a very new approach.

Jenny
I thought I wanted to do moderation, but soon into the course, I realised having a 30 day break would be an interesting experiment. It feels different this time.

Penny
Thank you Club Soda for your consistently helpful, creative and inspiring course. You've thought of absolutely everything!

Samantha
Learn How to Stop Drinking
Sign up for the course today and you'll get:
A detailed onboarding process that helps you get the best out of this course, including personalised feedback on your drinking habits
31 lessons with thought-provoking and in-depth online learning based on the best of behaviour change science, that you can work through at your own pace
Daily motivation nudges direct to your email inbox every morning, for as long as you need them
Practical tips to build your skills and confidence to stop drinking and live your life without alcohol
Four downloadable booklets packed with practical advice to help you prepare for change, pay attention, understand yourself and live with intention
Exclusive bonus videos each week featuring conversations with Laura Willoughby (Club Soda founder) and Dru Jaeger (author of How to Be a Mindful Drinker) exploring the course materials in more depth
Regular check-ins to help you pay attention to your triggers for drinking, make plans that work and keep track of your happiness
Self-guided reviews at the end of each part of the course so you can review your intentions and see the impact of changing your drinking on your sleep, energy, emotions, relationships and more
Experiments to practise being alcohol-free in the real world and the chance to share your findings with others
Connection with other members of the Club Soda community through our private Club Soda group on Telegram, a secure private messaging mobile app, so you can keep in touch wherever you are.
The small(ish) print
Is there any reason I shouldn't do the course?
You must not stop drinking suddenly if you think you are physically dependent on alcohol. If you think you might be dependent on alcohol, you should speak to your doctor.
How to Stop Drinking doesn't require you to change your drinking suddenly, so you could follow the course alongside cutting down your drinking gradually. The onboarding process for How to Stop Drinking includes a self-assessment questionnaire that can help you understand your risk of experiencing alcohol withdrawal symptoms. But How to Stop Drinking is not a substitute for medical advice. If you are concerned that you might be physically dependent on alcohol, talk to your doctor. And if you experience alcohol withdrawal symptoms at any point during the course, you must seek medical help.
When will my course start?
You can join How to Stop Drinking at any time. Once your payment has been processed, you will be automatically enrolled in the course. We'll email you a receipt and a welcome message, so you'll know you're signed up. And if you're new to Club Soda, you'll also get an email inviting you to create a password for the website.
If you can't log in or don't receive any emails from us, please check your spam folder first. And if you still can't find the email, please get in touch, and we'll look into it.
How does the course work?
All the course materials for How to Stop Drinking are hosted securely and privately on our website. The course is divided into 31 lessons, plus bonus material, which you can work through at your own pace. You'll find your check-ins, downloads and videos in the course materials.
Is there a time limit on finishing the course?
No. There's no expiration date on your course. It is yours for as long as you need it.
What about emails?
You'll receive a daily motivational nudge by email each day. You need to be subscribed to our regular email newsletter to get these emails – we use the same system to send them. You can subscribe when you buy the course or sign up for the email newsletter. We'll send you these emails for as long as you want them, and you can update your preferences or unsubscribe at any time.
Occasionally, depending on the time of day you sign up, there can be a slight delay in starting your daily nudges. If you haven't received a nudge within 72 hours, please contact a member of the team.
How do I join the Club Soda group on Telegram?
You'll find the instructions to join our Telegram group once you've logged in and begun the course. You are welcome to be part of our group on Telegram for as long as it's helpful to you. If you have any difficulties getting started with Telegram, do get in touch.
Who's behind the course?
How to Stop Drinking has been developed by Dru Jaeger, one of the co-founders of Club Soda and the author of How to Be a Mindful Drinker, a comprehensive guide to cutting down, taking a break and quitting drinking. Dru is a writer, researcher, coach and mindfulness teacher with more than a decade of experience in healthcare policy. Inspired by behaviour change science and mindfulness practice, this course also draws on Club Soda's research into the experiences of our members who have changed their drinking. In short, we've put together a course that works.
Is this course about meditation?
How to Stop Drinking draws on many of the core ideas of mindfulness, encouraging you to pay attention to yourself and the world around you, treat yourself with kindness, and take a more conscious and deliberate approach to living. So this course is fundamentally about helping you increase your awareness of your relationship with alcohol.
Although this isn't a meditation course, we encourage you to experiment with a formal mindfulness practice. You'll find instructions for this in the course materials. Mindfulness meditation can be a valuable tool to deepen your awareness, and it has been shown to support long-term recovery and wellbeing.
And finally…
While we make every effort to run our programmes as advertised, we reserve the right to change course content, dates, trainers and moderators if necessary. We also reserve the right to suspend any member who does not keep to our Club rules and terms and conditions.